Is Tesla stock a good buy? This is probably one of the hottest questions being discussed not just on Wall Street, but among retail investors as well. With its crazy share price that has increased 4- to 5-fold since the start of 2020, many investors are thinking of jumping on this bandwagon.
Countless analysts have given their Tesla stock predictions and today, I'll be giving you my thoughts on it. In this article, I'll do a Tesla stock analysis using my signature Value Momentum Investing™ strategy.
Tesla Business Overview
Before we invest in any company, we must first know what the business does. So, how does Tesla make money?
Firstly, Tesla is a leading electric vehicle and autonomous vehicle producer as well as a vertically integrated sustainable energy company with energy generation and storage products. Breaking these segments down, the automobile business takes up majority of Tesla's operations, with the energy and space segments taking a small proportion.
Tesla Fundamental Analysis
Here, I'll perform a fundamental analysis on Tesla (TSLA) based on some of the criteria in my Value Momentum Investing™ strategy.
Does Tesla Have Consistently Increasing Sales, Net Income and Cash Flow
f
rom Operations?
As you can see from the financial report below, Tesla has been able to generate consistently increasing revenue for the past few years, so it passes one of the steps.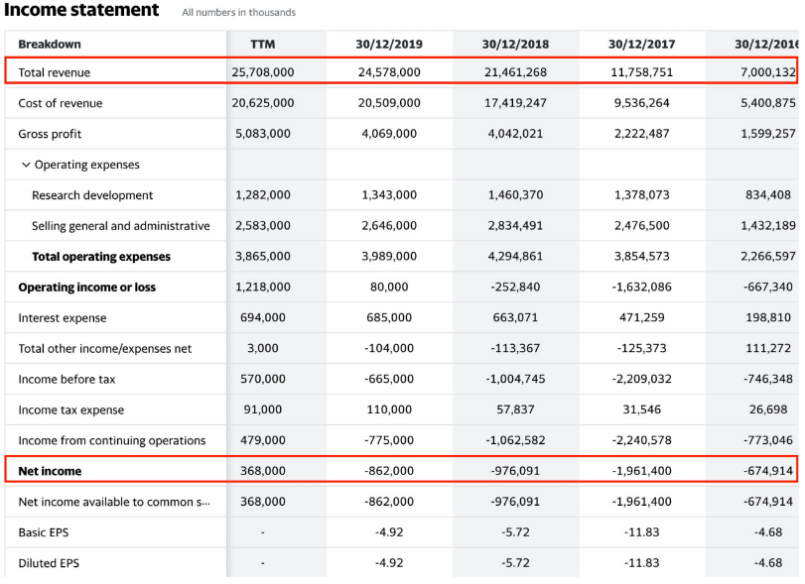 Source – Yahoo Finance
However, as it is a relatively new business, net income has been negative for the past few years and the company has only become profitable recently.
Cash flow from operations has only just turned positive in recent years so there is not a long enough track record. In general, I prefer a track record of at least five years.
Hence, as a whole, Tesla does not meet my first investment criterion.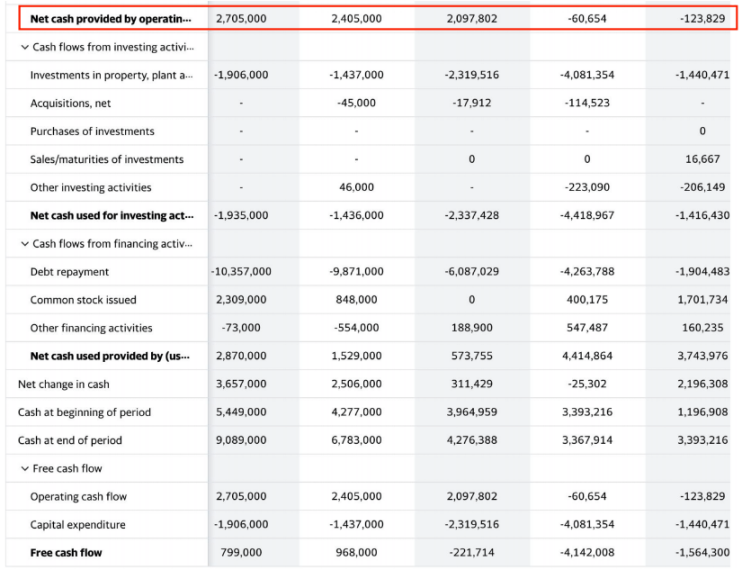 Source – Yahoo Finance
Does Tesla Have
a
Wide Economic Moat
?
The next criterion I look for is a wide economic moat. This refers to an intrinsic characteristic within a business that allows it to withstand competition and continue to dominate in its industry for years to come.
Here are some interesting statistics.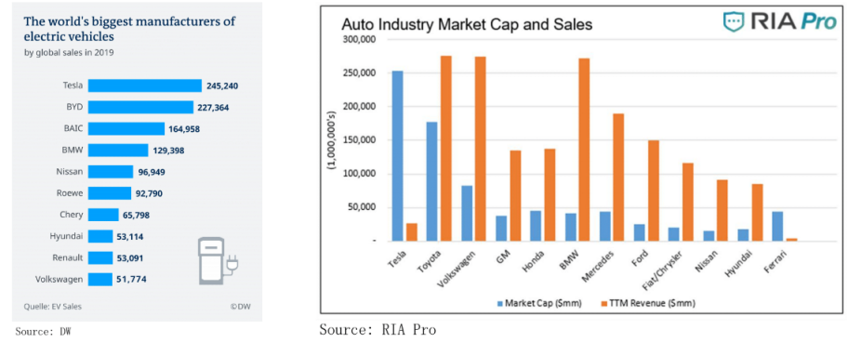 For a business to have a wide economic moat, it needs to have few to zero competitors. Looking at just the electric vehicle market and not even at the broader automobile market, we can see that there are already many rival players like BYD Auto and BAIC Group.
It's also debatable whether Tesla has a brand monopoly. While die-hard fans of Tesla would swear by their favorite brand, there's nothing much stopping other customers with less brand loyalty from switching to other brands when newer, more enticing models are launched.
Hence, in my opinion, Tesla has a narrow economic moat and does not meet my second investment criterion.
I also want to make a disclaimer here that I personally avoid the automobile industry altogether as it is a really competitive industry to me where no companies have a moat.
Does Tesla Have Conservative Debt
?
When it comes to debt, there are a few things I look at.
Firstly, Tesla's debt is way higher and rising faster than its cash, and that scares me.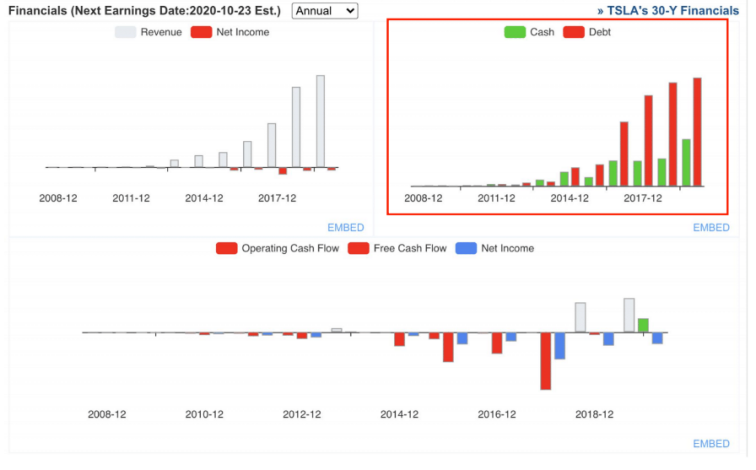 Source – GuruFocus
At the same time, looking at their Debt/EBITDA ratio, the number stands at 4.43 which exceeds my limit of 3. And the higher this figure is, the more dangerous investing in Tesla becomes.
Another metric I look at is the interest coverage ratio, which gives us an idea of how many times Tesla can cover its interest expense with its profits. Generally, to be conservative, I look for a ratio of 3 and above. Once again, Tesla fails this criterion with a figure of only 1.76.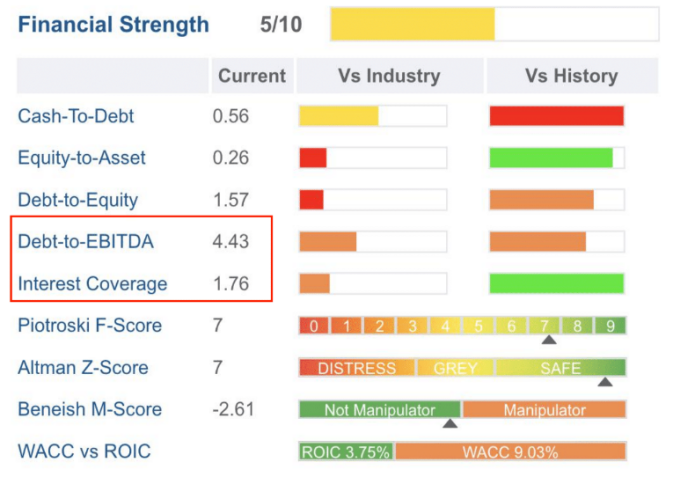 Source – GuruFocus
Hence, when it comes to conservativeness of debt, Tesla does not meet my standards as well.
Is Tesla Overvalued?
To determine whether Tesla is undervalued or overvalued, we need to find out its intrinsic value, which we can do so with my trademark intrinsic value calculator. I will use both a 10-year and 20-year discounted cash flow valuation, with a projected growth rate of 50% based on historical growth rates and analyst growth projections.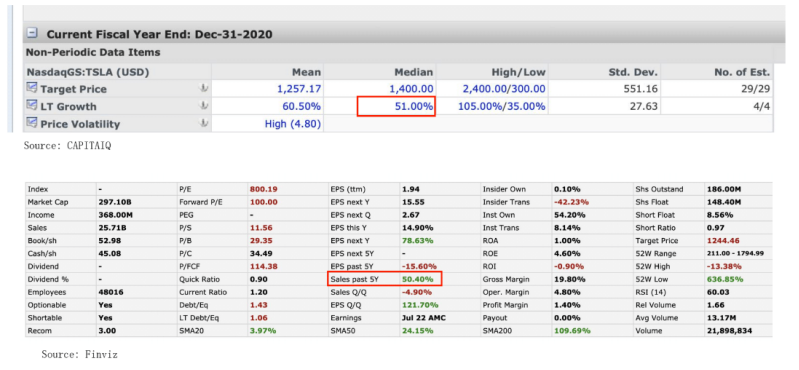 Keying in the relevant figures, here's what I got.


Note: Intrinsic values were calculated pre-stock split
The purpose of calculating two sets of intrinsic value is to give us a range of intrinsic values to consider. By current market price, Tesla is significantly above both sets of intrinsic values, which gives us a clear idea that Tesla is very overvalued at my point of writing. Always remember, a great business can be a bad investment if you pay too high a price.
However, this does not mean that Tesla can't keep going up! Remember that in the short term, no one can predict what will happen in the markets so if you ask me how high will Tesla go, I don't know the answer either.
However, based on how overvalued Tesla is right now, what we do know is that the risk-reward ratio of investing in Tesla is not ideal at this point in time. Plus, it does not pass my investing criteria to begin with.
Conclusion
:
Is Tesla Stock
a
Buy
?
To conclude my Tesla stock analysis today, the business does not have a sufficiently consistent track record, is highly leveraged and operates in a very competitive environment. Finally, it is very overvalued at the point of this writing. For these reasons, Tesla is not a stock that passes my investing criteria taught in my Whale Investor™ Value Momentum Investing™ course.
I hope you've gained some insight from this article and may the markets be with you.