Dear traders, Adam Khoo here (the real one). It has come to my attention that scammers are using my name and reputation as a financial educator to solicit money from my students and online followers.
While my team has reported them to the relevant authorities, these scammers are rampant and sneak up everywhere. So I'm writing this post to protect everyone who trusts and follows me from losing their hard-earned money.
How Do Scammers Cheat Your Money by Impersonating Adam Khoo?
The modus operandi of these scammers appears to be this:
First, they create a fake online account with a username similar to mine. To make it convincing, they will steal my public images and list my official websites. These can be on any online platform, including:
Email
YouTube
Facebook
Instagram
Twitter
WhatsApp
Telegram
Microsoft Messenger
Blogs / Websites
Banner ads
Next, they go to my official online channels, look for my followers, and private message them.
They then pitch a lucrative money-making opportunity using my credibility. This is usually some get-rich-quick offer.
Finally, they ask you to send them money, make an investment or buy a product. They may also offer to sell you my courses at a "massive discount".
After receiving your money, they disappear.
Below are some screenshots from my students who almost got scammed. (I have blanked out my students' names to protect their privacy.)
"Adam Khoo" Scam Example #1: Fake Email Pitching "Profitable Options Proposal"
Notice that they sign off with my real websites to help them look more legit.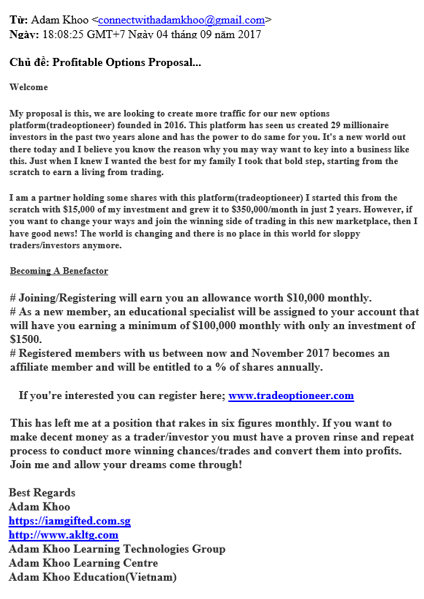 "Adam Khoo" Scam Example #2: Fake Facebook Profile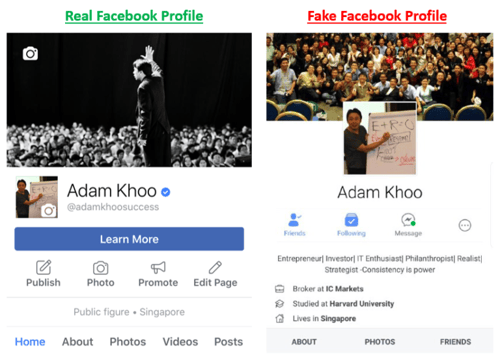 Since when have I studied at Harvard? These scammers would really twist facts to add to their credibility. I only have two Facebook profiles: My public fan page (@adamkhoosuccess), and my personal account which has already exceeded its friend limit. My real Facebook page comes with Facebook's verified check mark (blue tick).
"Adam Khoo" Scam Example #3: Fake Instagram Profile Soliciting Investment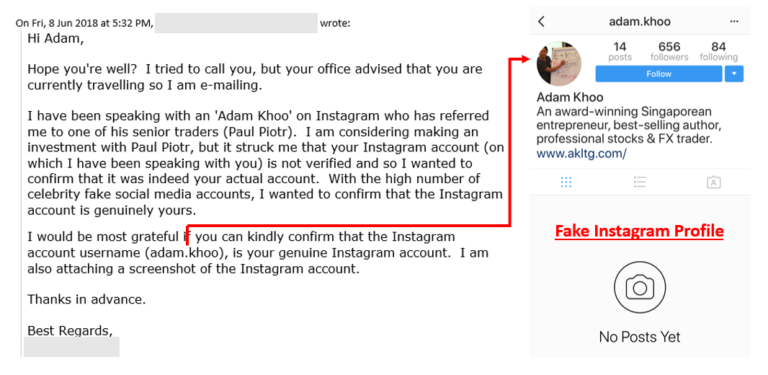 "Adam Khoo" Scam Example #4: Fake Microsoft Messenger Profile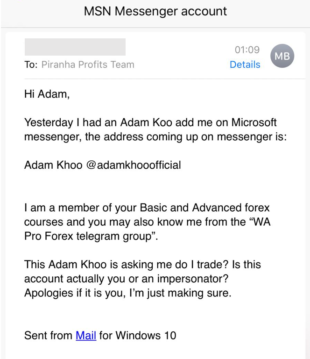 "Adam Khoo" Scam Example #5: Fake News Promoting Get-Rich-Quick Scheme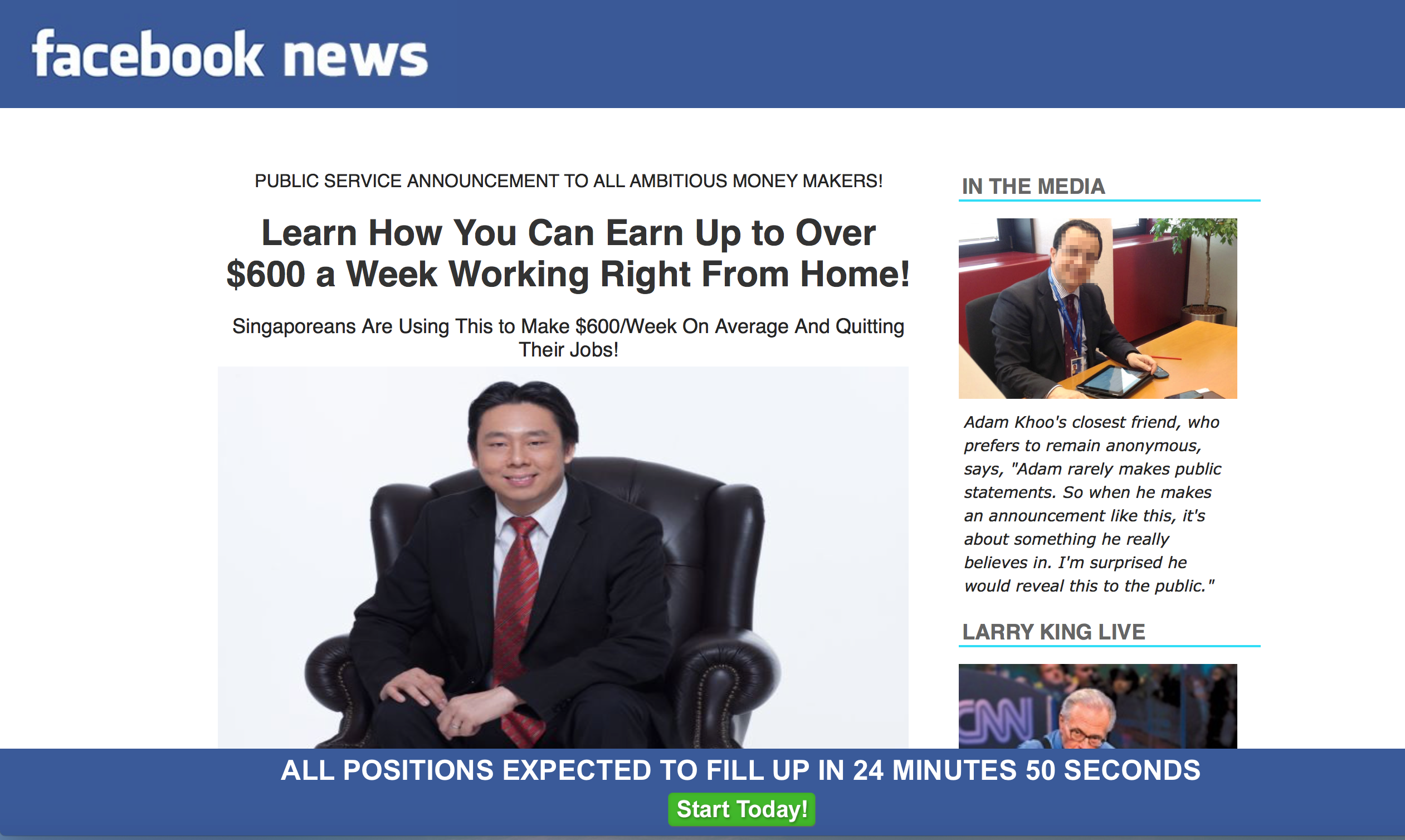 How to Discern the Real Adam Khoo from Scammers and Impersonators
Always check if the message comes from my official online channels.
Here's a list of all the finance-related online channels managed by myself or my team. Anything not listed here is highly likely to be a fake account!
Verify the message with my team.
Take screenshots and note down the username/email address/website URL of the person you suspect is impersonating me. You can reach my team at support@piranhaprofits.com.
I will NEVER private message you to chat with you / ask for your personal details / ask you to send me money.
If you suddenly receive a message from "Adam Khoo" via a social media or chat platform, sound the alarm bells!
I will NEVER offer to manage your portfolio for you, offer "sure-win" forex trading signals, bitcoin investments... etc.
The only trading-related online products I offer are my trading courses, which you can enrol for through my Piranha Profits official website via a secure payment gateway.
All my students who've followed me long enough know what I always say, "It takes hard work, practice and discipline to make consistent trading profits." I am not an advocate of get-rich-quick trading systems and I will never offer to trade for anyone.
What Should I Do If I Encounter an Online Scammer Pretending to Be Adam Khoo?
Stay calm, think rational.
Ignore the person. DO NOT reply.
DO NOT give away your personal details. DO NOT send any money to the person.
Take screenshots of the message and note down the person's username / social media handle / email address / website URL.
Email to support@piranhaprofits.com to verify with my team.
Report the account to the support team of the relevant online platform.
Block them.
Remember, making consistent trading profits takes effort. If something sounds too good to be true, there's usually a catch.
Keep profiting and stay safe!
Adam Khoo