Content Table:
Over the past decade, Amazon (AMZN) has been one of the best-performing stocks to own. The question is whether this uptrend will continue ─ "Is Amazon a good stock to buy today?"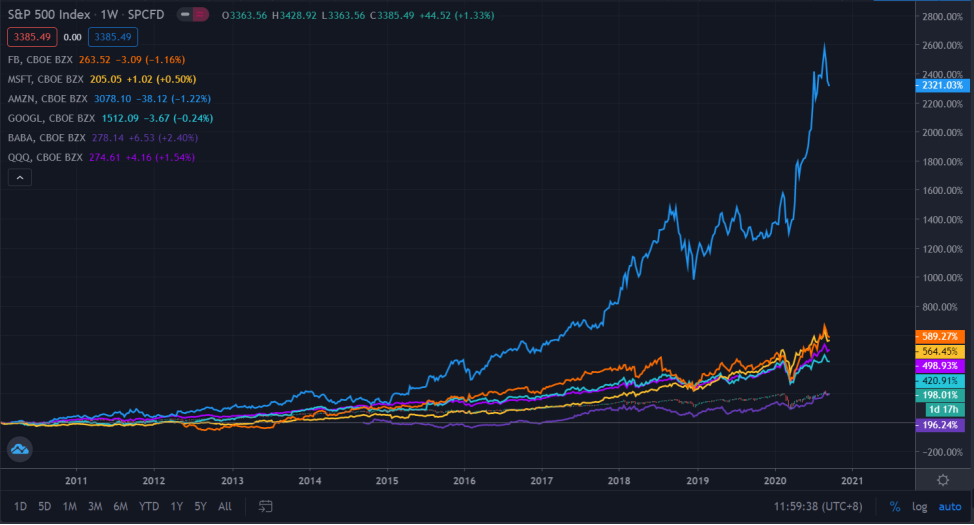 In this article, I'm going to do an in-depth Amazon stock analysis using my signature Value Momentum Investing™ strategy.
Amazon Business Overview
As always, the first thing to do before investing in any stock is to understand the underlying business. What does Amazon do and how do they make money?
We can divide their business model into three main parts.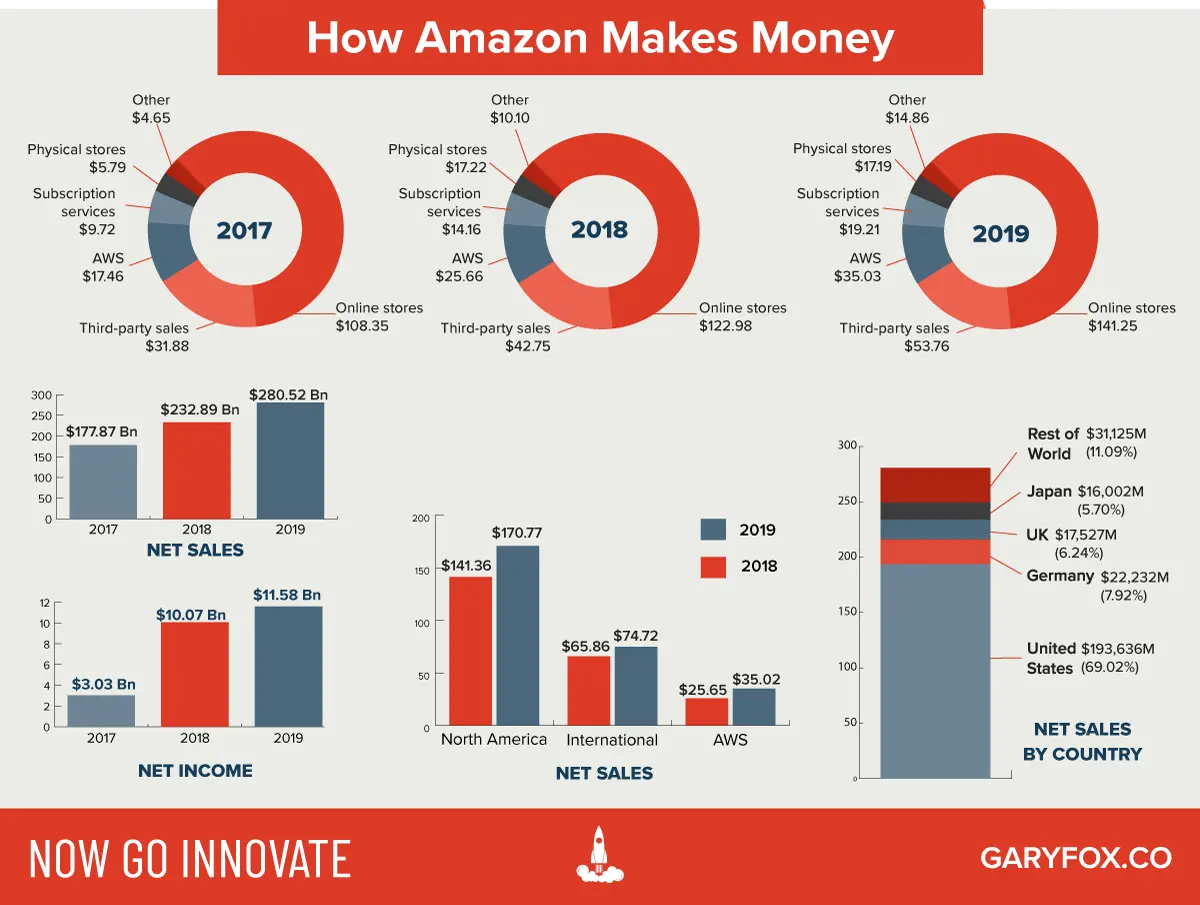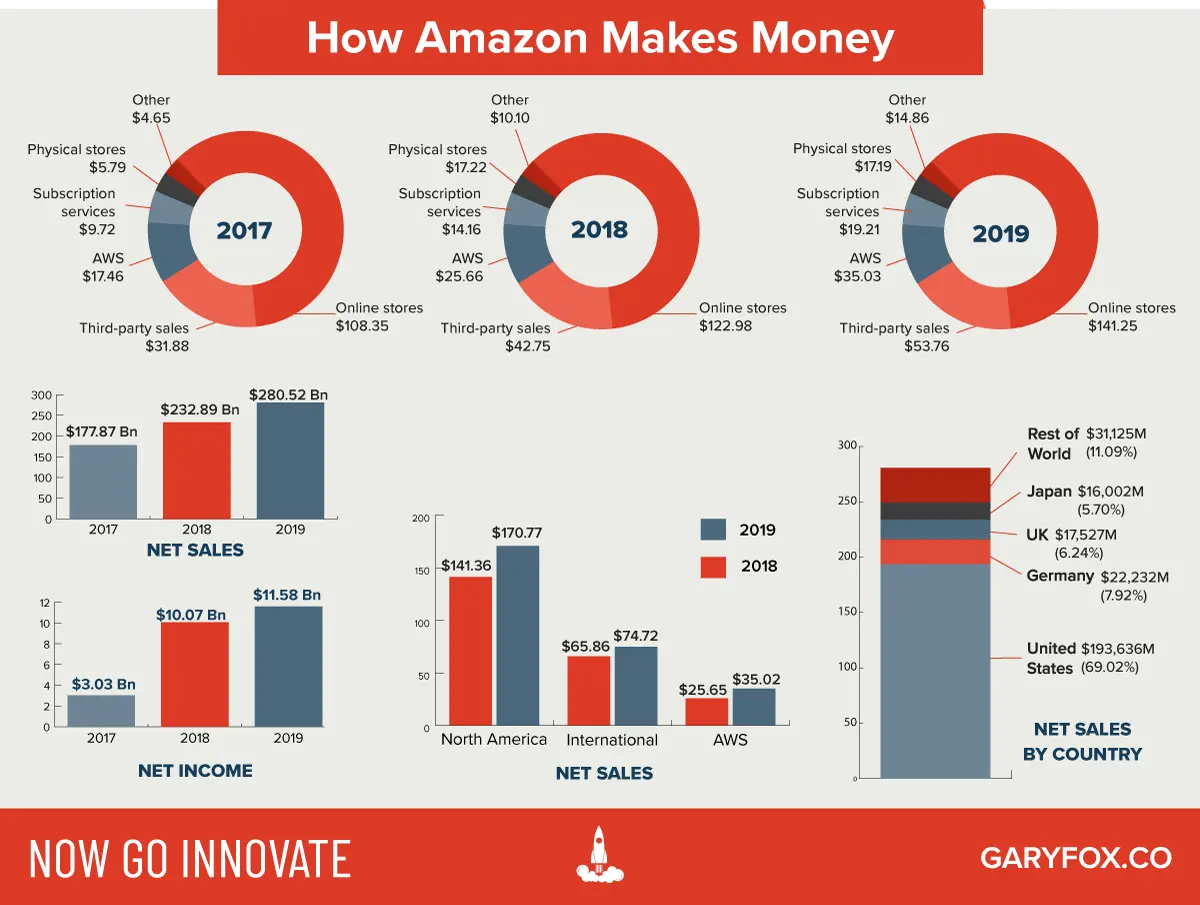 Source – GARYFOX.CO
Firstly, a familiar household name, Amazon is one of the world's leading online retailers, where e-commerce accounts for majority of their revenue.
This is followed by their cloud solution, Amazon Web Services (AWS). Last but not least, a small proportion is contributed by advertising revenue.
Here's a deeper look into the individual segments.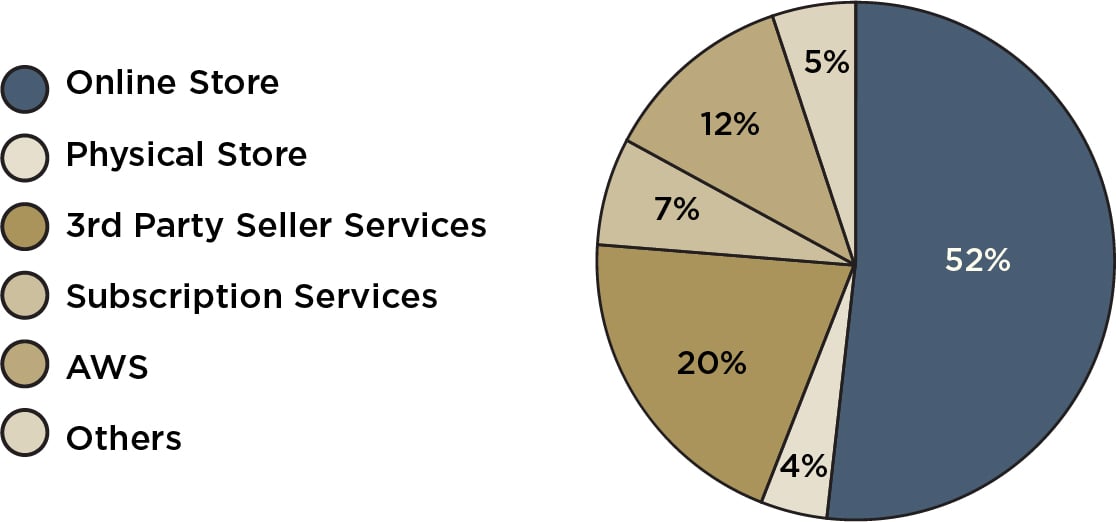 Amazon Fundamental Analysis
Now that we understand what the business does, let's do a fundamental analysis on Amazon based on the criteria outlined in my Value Momentum Investing™ strategy.
Does Amazon Have Consistently Increasing Sales, Net Income and Cash Flow from Operations?
As you can see from the financial results below, Amazon has an amazing track record of consistently increasing sales, net income and cash flow from operations.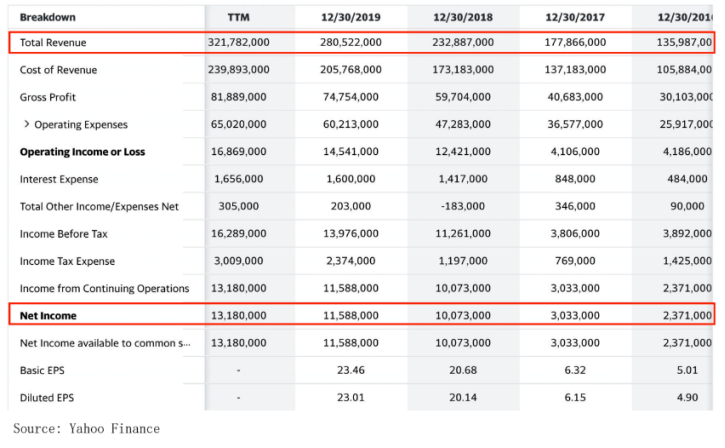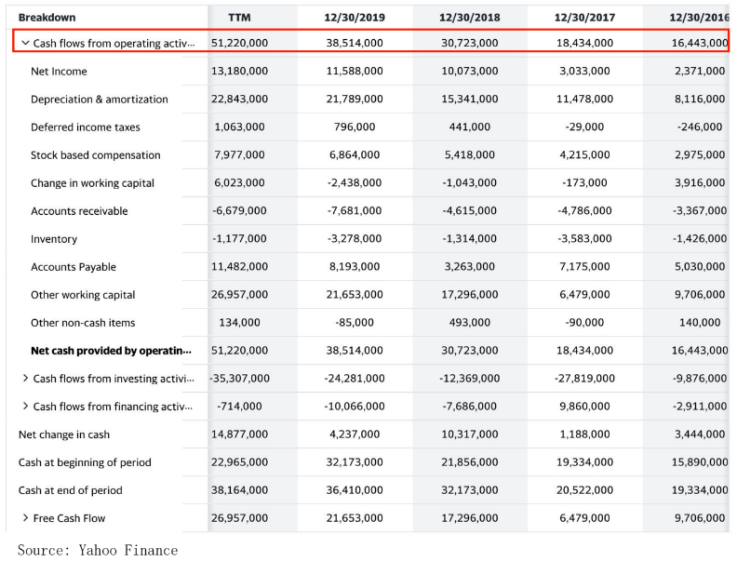 As an investor, this gives me confidence that the company will likely continue growing after I purchase its shares.
Does Amazon Have a Wide Economic Moat?
The next criteria we are looking for is a wide economic moat. This refers to the company's competitive edge that allows it to withstand competition and continue dominating its industry for years to come.
Here are some statistics we can look at.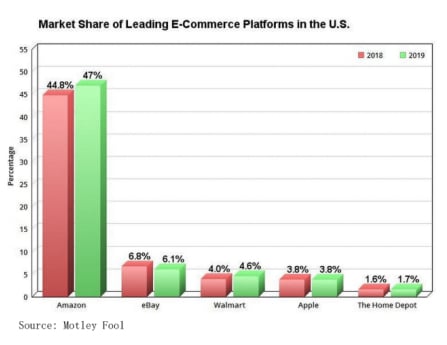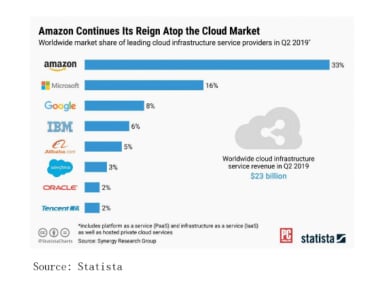 For a business to have a wide economic moat, it needs to have little to no competitors. Judging by the significant market share Amazon possesses ahead of others in both the e-commerce and cloud market, this is clearly the case.
Besides that, Amazon is the top-of-mind recall for many when it comes to e-commerce, reflecting its brand monopoly. At the same time, the business possesses huge economies of scale that allows them to reap cost advantages that competitors may not enjoy. These factors further support the wide economic moat for Amazon.
Does Amazon Have Conservative Debt?
So far so good, which brings us to the next criteria and that is debt. This reflects the company's financial strength and ability to withstand a potential crisis.
Now when it comes to debt, there are a few things I look at.
Firstly, Amazon has twice the amount of cash compared to debt and although its debt has been rising over the years, its cash has also been rising at similar rates.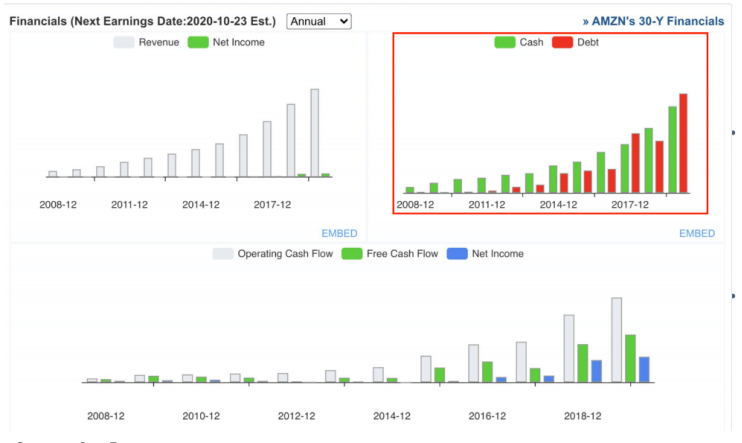 Source – GuruFocus
Two other metrics we want to look at here would be the Debt/EBITDA ratio as well as the interest coverage ratio.
For the DEBT/EBITDA ratio, I want to see a value of below 3 (the lower, the better). Amazon clearly passes my criteria at 1.86.
As for the interest coverage ratio which measures how much a business is able to cover its interest with its profits, I want to see a value of above 3 (the higher, the better). Amazon totally surpasses my criteria with a coverage of 10.19x.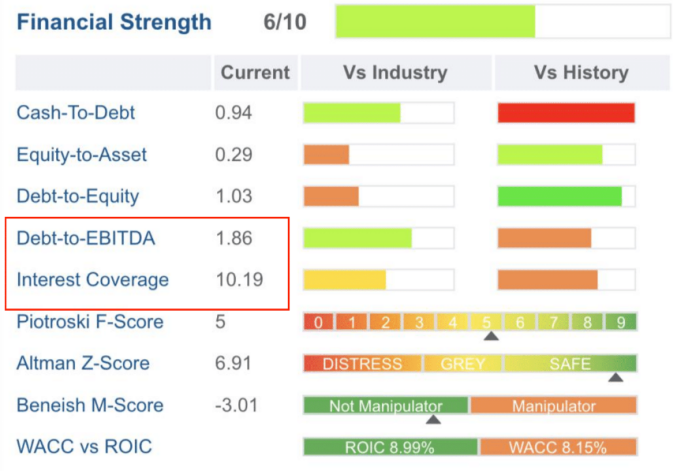 Source – GuruFocus
This is not surprising at all considering how strongly Amazon recovered from the 2020 stock market crash.
Is Amazon Overvalued?
Finally, we need to calculate the intrinsic value of Amazon to determine whether it is undervalued or overvalued. I will do this with my trademark intrinsic value calculator.
Since Amazon is a wide moat business, I will use a 20-year discounted cash flow valuation along with a growth rate of 36% based on analyst projections.

Source – Finviz
Putting all the relevant figures together, here's what I got.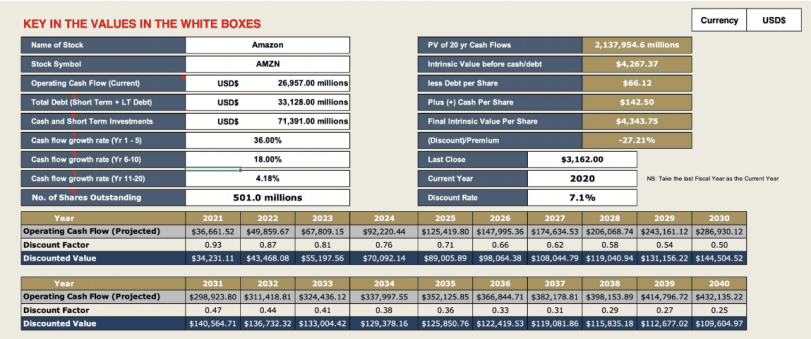 Do note that I'm using the free cash flow value here instead of the usual operating cash flow figure to be extra conservative.
With a final intrinsic value of $4343.75, Amazon is undervalued at my current time of writing.
Conclusion:
Is Amazon a Good Stock to Buy
?
To conclude my Amazon stock analysis today, the business passes all my criteria when picking a winning stock. It has a consistent track record of great financial performance, wide economic moat and conservative debt.
At the current price point, it is also undervalued. For these reasons, Amazon is a great business to own, in my opinion.
By looking at the price charts and performing technical analysis, we can work out the optimal entry points to secure better gains from Amazon. These are all taught in my signature Whale Investor™ Value Momentum Investing™ course.
I hope you found this article useful. May the markets be with you.