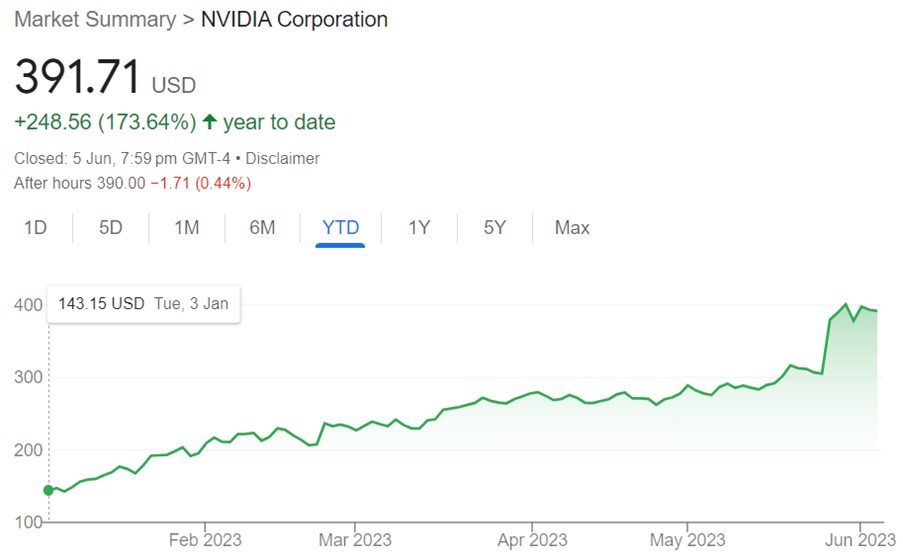 Oh My NVIDIA! This AI company has spiked by a whopping +173% year-to-date.

Given this crazy AI rally behind NVIDIA (NVDA) in 2023, is NVIDIA still a good stock to buy right now? Read on to find out!
The AI Boom Behind NVIDIA's Spike: Pure Hype, or Investment Opportunity of a Lifetime?


Blockchain, NFT, Metaverse, DNA Sequencing, and now, Artificial Intelligence (AI).

Sounds familiar?

Many investors were chasing those trends under the pretext of "disruptive innovation" — and the new talk in town is all about Artificial Intelligence. So, is AI going to be a passing fad like the rest of them, or can it potentially be the next game changer in both the investing and business world?

For now, NVIDIA (who is in the high-end chip designing business) seems to be in the prime position to take advantage of this AI boom as they look towards selling the pickaxe during the gold rush.

Interestingly, even the Big Tech companies of the world are jumping onto this AI bandwagon, and the more the respective CEOs talk about AI, the higher the stock has rallied. Finally, we have a decent explanation of why Amazon has been underperforming its peers 😉

Source: Babbl
Jokes aside, I think we can all first agree that AI and its footprints are here to stay.

Regardless of what business you're in, from BigTech to traditional manufacturing to even making cheesecakes, adopting and implementing AI throughout the business processes will help boost productivity and efficiency, allowing companies to work faster and cheaper!

From there, businesses will be able to extract greater profit margins and earnings, which would be a net benefit to us as shareholders.

The challenge now is deciphering how much of this AI rally is attributed to speculation versus tangible, realistic expectations of the future.
How NVIDIA Shocked the Markets

The funny thing is, AI was never a new term, so what exactly drove this AI rally?

The short answer, NVIDIA. They blew Wall Street's expectations out of the water.

Surprising Wall Street is an understatement when you see a stock go up by more than 150% in the short span of five months.

Besides, we are not looking at penny stocks with only tens of millions of market cap, but the most highly valued chip design companies out there. Just this year alone, at a $391 stock price, NVIDIA has added more than US$600 billion in market capitalization.

What exactly was the market thinking about?!

To allow you to have a deeper appreciation of how "off-tangent" the expectations were;

Before NVIDIA's FQ1 2024 (Apr 2023) Earnings Result:

Source: SeekingAlpha Analyst Consensus for NVIDIA
After NVIDIA's FQ1 2024 (Apr 2023) Earnings Result:

Source: SeekingAlpha Analyst Consensus for NVIDIA
During NVIDIA's Q1 '24 (April 2023) earnings release, the management team guided the next quarters' revenue to be $11 billion +/- 2%. If we were to compare this with Wall Street's consensus, they were not expecting NVIDIA to achieve $11 billion per quarter anytime soon, at least not until July 2025.
The market was busy re-underwriting the intrinsic value of NVIDIA, adjusting their models, changing their growth assumptions — which resulted in the stock surging more than 24% post-earnings.
Is NVIDIA a Good Stock to Buy?

The AI hype aside, there is actually a strong fundamental thesis around investing into NVIDIA if we first ignore their current valuations.

Structural Tailwind in the Server and Computing Market

According to TrendForce's latest survey of the server market, many cloud service providers have kickstarted their investment cycle into building high-end server capabilities for the future. This is in response to the development of new applications such as autonomous driving and the artificial internet of things in 2018.

Shipment of AI servers are estimated to increase at a CAGR of 10.8% from 2022 to 2026.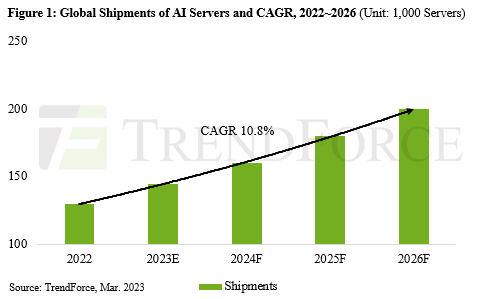 To add, the unveiling of ChatGPT and the likes of platforms such as Midjourney (text-to-photo AI) has shone a considerable amount of light on the capabilities of generative AI.
On that note, according to Infiniti Research, the AI chips market is forecasted to grow by USD 210 billion during 2022 to 2027, accelerating at a CAGR of around 61.5%.
This has amplified the levels of excitement around the potential of generative AI, which forms the baseline argument that in order for companies to stay competitive, they must start to integrate such capabilities into their business, driving up the demand for such high-end computing power.
NVIDIA Has a Near-Monopoly Status in the Server GPU Market
The total demand for AI servers in 2022 doesn't come as a surprise since the US Big Tech companies together held the largest share of this demand at around 66.2%.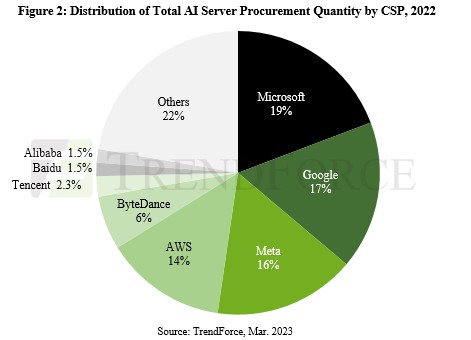 In terms of the server GPU market, NVIDIA currently controls about 80% of the supply of such high-end chips while AMD controls the remaining 20%.

Effectively, NVIDIA is able to apply a "blanket tax" on the capital expenditures of these companies that require the computing capabilities (mainly Big Tech) because they have to stay ahead of the curve.

As long as NVIDIA is able to retain its monopolistic position with its unrivaled product offerings, it can continue to charge an arm and a leg and their customers will continue paying up (even if they might be cursing at NVIDIA behind their back).
Is NVIDIA Overvalued? Can I Buy NVIDIA Today?

Here comes the biggest question: Can we still buy NVIDIA after this EPIC run-up in valuations?

At Piranha Profits®, we believe in picking fundamentally strong stocks with a healthy margin of safety and buying in when the stock is undervalued.

We do acknowledge that NVIDIA is currently in a very interesting position to take advantage of the two structural shifts in accelerated computing and generative AI. But we do find NVIDIA's current valuation slightly ludicrous with a boat-load of optimism baked into the stock price.

To illustrate my point on how overvalued NVIDIA is today, I will ground you with some numbers.
Forecasting NVIDIA Stock in 2025 and beyond

All the assumptions in my calculations will be based on the time of this writing (07 June 2023), where NVIDIA is trading at a stock price of $391.71 with a US$967.52 billion market capitalization.

Currently, NVIDIA is trading at a price to free-cash-flow of 191x.



If we assume the following few scenarios:



NVIDIA grows FCF by a CAGR of 30% for 5 years and exits at a 30x FCF multiple, that is a return of -10% CAGR.
NVIDIA grows FCF by a CAGR of 30% for 5 years and exits at a 50x FCF multiple, that is a return of -0.6% CAGR.
NVIDIA grows FCF by a CAGR of 50% for 5 years and exits at a 30x FCF multiple, that is a return of +3.68% CAGR.
NVIDIA grows FCF by a CAGR of 50% for 5 years and exits at a 50x FCF multiple, that is a return of +14.83% CAGR.

Now, I hope you understand where I'm coming from when I say that NVIDIA is obscenely overvalued with a non-existent margin of safety. All things considered, it is rare for large companies to deliver growth rates in the north of 30% for a long period of time, on a considerably large base (NVIDIA brought in $5.1billion FCF in the trailing twelve months).

You be the judge on whether:

The current valuation of NVIDIA is justified
You expect them to easily grow FCF between 30 to 50% in the next five years
A 50x FCF multiple is fair for their growth moving forward

Of course, if we are truly standing at the inflexion point of humanity and the proliferation of AI is going to drive up demand exponentially, then these are rookie numbers.

We prefer to stay on the conservative side of things.



Conclusion


Despite feeling optimistic about NVIDIA's bright future ahead due to its strategic positioning, the valuations they are currently commanding is too hard a pill for us to swallow.

However, we still believe that investing into companies that embrace AI is the way forward, and if you are interested in the list of AI stocks we are currently on the lookout for, you can head over to the Ultimate Investors Playbook to get full access and real-time updates of Adam Khoo's portfolio and investment ideas.